Top Stories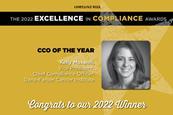 Kelly Maxwell can't cure cancer, but she and her team do their part to help the rest of the Dana-Farber Cancer Institute achieve that mission. For her work, Maxwell was named CCO of the Year at the 2022 Excellence in Compliance Awards.

For Snap, kindness has long been a core value, but only last year did the company overhaul its code of conduct to thrust the term to the forefront of its internal communications. Snap was recognized as Compliance Program of the Year at the 2022 Excellence in Compliance Awards.

Tamar Frankel's 50-year career as a law professor at Boston University more than satisfies her being honored for Lifetime Achievement at the 2022 Excellence in Compliance Awards. Yet, to limit the scope of Frankel's accomplishments to her academic career would be a massive oversight.

Mary Shirley, head of culture of integrity and compliance education at Fresenius Medical Care, discusses with Compliance Week what mentorship means to her and who has helped her along the way.

Boon Kim Fam, legal director of compliance, Asia Pacific at clothing company PVH, discusses with Compliance Week how her cultural sensitivity, technical expertise, and sound international outlook have helped her navigate the global compliance field.

Compliance Week's National Conference is back in person for the first time since 2019. Stay tuned for highlights and takeaways curated throughout the duration of the event, which is being held May 16-18 at the JW Marriott Hotel in Washington, D.C.
Special Report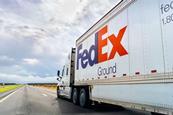 Since 2008, FedEx has produced detailed reports on its ESG initiatives. The company's chief sustainability officer discusses the decision-making process behind the first report, determining materiality, and more in Part 1 of this four-part special report, published in partnership with the ICA.
CW Surveys

Let us know what you think of the SEC's proposed climate-related disclosure rule and whether your company will be prepared to comply.
Partner Content

In light of the ongoing impacts of the pandemic on the global financial industry, CUBE looks at this year's regulatory data to analyze the global enforcement trends of 2021.
More from Compliance Week

More than three-quarters of respondents to a Kroll global benchmark report said they have conducted an internal investigation into fraud or corruption within the past three years and that the cost of such probes is on the rise.

The Commodity Futures Trading Commission proposed a rule that would replace certain swap rate clearing requirements pegged to the London Interbank Offered Rate with other alternative reference rates that are less susceptible to manipulation.

Thomas Ward, a former head of compliance at an investment management firm who once worked as a compliance inspector for a U.K. regulator, was fined 416,558 pounds (U.S. $513,000) and banned from working in the financial services sector following a tribunal ruling.

The Securities and Exchange Commission has extended the comment period for its controversial climate-related disclosure rule to allow interested parties more time to consider the issues and share feedback.